When Viliame "Bill" Mata returned to Fiji in August 2016 as an Olympic gold medallist, national hero and rugby sevens galactico, a message was waiting for him.
An overseas contract offer. The dream, the golden ticket for the ranks of impoverished, rugby-obsessed young men that pepper the archipelago.
Ben Ryan, his Fiji Sevens head coach and the canniest of rugby mentors, talked him through the details – the club he would join, the league he would play in, the money on offer – and Mata signed the deal.
There was only one problem. He went back to his parents' house that day, where he still lived with his wife and infant daughter.
"I told my wife, 'we're going to Edinburgh' and she asked me where it was," Mata recalls. "I said 'I don't know, we're just going on the plane… but it's close to London'."
The family arrived in Scotland in October. Winter had set in. The dream had turned dark.
His partner and daughter have found themselves transplanted thousands of miles from all that is familiar and reassuring and "want to go back" to Fiji.
But they have resolved to stay so 26-year-old Mata can earn the sort of living way beyond what they could attain back home – even if 400 miles is stretching the definition of "close to London".
"You get up at 07:00 and it's still dark, but if you try to sleep again, you might be late for training. Then it gets dark at 16:00. It took me two years to get used to it but I still don't like it," Mata says.
"But it's always been a dream to get out of the island – if work didn't take me out of the island, I was hoping rugby would. And rugby did."
'I got famous after Rio, but life moves on'

Family and sacrifice are constant themes in Mata's voyage.
The youngest of four siblings, the enormous Edinburgh back-row was raised in Suva, the Fijian capital. His father, a retired military officer, worked overseas and his formidable mother watched over her brood.
The giant 6ft 5.5in 18-stone forward laughs now at the memories of the tongue-lashings he'd get when his attitude wavered and Ryan would pay a visit to Mrs Mata.
It was Ryan who spotted the young man's immense potential while playing for provincial team Nadroga. If he hadn't, there's a decent chance Mata would still be there, working as a joiner.
They were an incongruous match, the slight, flame-haired Englishman and the squad of Fijian colossuses, but Ryan moulded his group of talented individuals into a unified, unstoppable force. A force who won Olympic gold as rugby sevens made its debut in 2016
Their team were mesmeric and Mata was tremendous. Ryan is pretty sure he did not once lose the ball nor concede a penalty in the entire tournament.
"Ever since you're a small boy, you look up to the Flying Fijians and say, one day you want to be in the national jumper playing for your country," Mata says.
"I never thought I would make the Olympics squad and it feels like ages ago now, but the memories from Rio don't go away.
"After the final, we never really felt like we'd won anything, but when we got back home, the celebrations were crazy. That made us realise that we did something for the country and we were so happy."
The photographs and footage of the Fijian homecoming depict a frenzied carnival of music, dancing and jubilation following the team from street to street. Feasts – too many for Mata to recall – were held in honour of the champions.
"The people did something for every player – families, people from your schooldays, from your church, want to get hold of you, prepare meals and feasts for you.
"I'm still trying to get better at what I do but it's really nice walking down the street and getting greeted by a fellow Fijian: 'Bula [hello] Bill, how are you?' You got famous after Rio. But life moves on."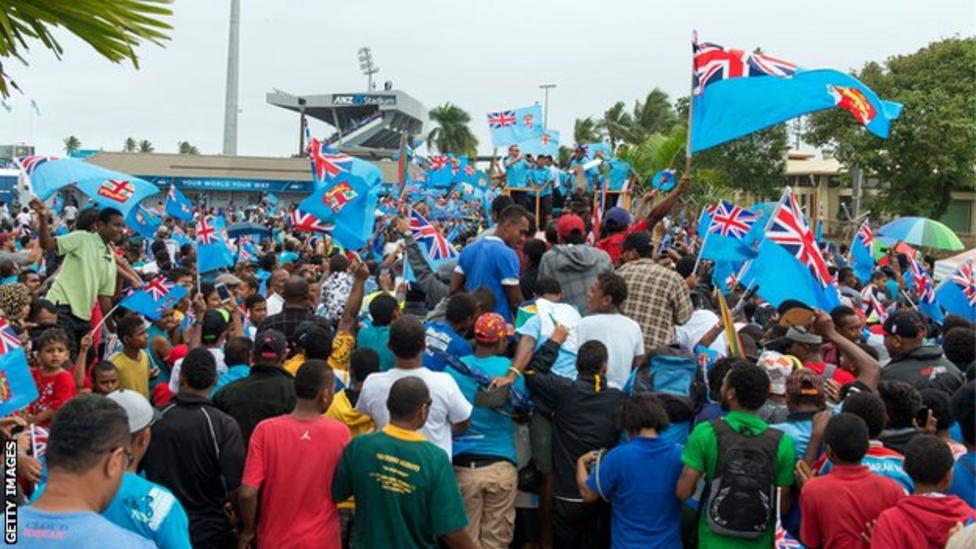 'I'm good at running into people'
For a player good enough to flourish in any club in world rugby, the Edinburgh of old seemed an odd destination. Their rugby was limited, their form wretched, and their attendances pitiful.
That is changing now. Richard Cockerill is only one season into a mountainous rebuilding job but the progress is startling, and Mata has been at the forefront.
His dynamism is a precious skill in the close-quarter skirmishes of the northern hemisphere game and he is Edinburgh's thunderous go-to man when yards are needed.
In his 16 starts last season, Mata made 802m from 208 carries. Only once did his carry count fail to hit double figures, and even in that game, he ran over 82m in possession. In Edinburgh's first outing of the new campaign, an error-strewn slog in Swansea, he made 86m from 16 carries.
Even though he was injured and replaced at half-time in their loss at Ulster a fortnight ago, Mata still carried ball 17 times – more than any other forward and all but three of the backs.
"I started out playing rugby league, where it's running straight at people, and I just got used to it. I'm good at it and I'm going to keep doing it," Mata says.
"When I came here, we were just playing for the sake of playing," Mata recalls. "Everybody was fighting for their positions, we really wanted to play to win.
"But it has really changed. Now, either you're physical or you're not going to play. The best thing is, the coach is making changes every week, so it gives the players something to boost them to perform."