US President Donald Trump has mild symptoms of Covid-19 after he and his wife, Melania, tested positive for the coronavirus, the White House says.
Trump's chief of staff, Mark Meadows, said the president was "on the job" and "in good spirits", adding that he expected him to make a quick recovery.
Meadows said the president remains energetic, and gave him his usual five or six tasks this morning.
The news comes just over a month before presidential elections, where he will face Democratic challenger Joe Biden.
Biden himself and his wife, Jill, tested negative today.
"I hope this serves as a reminder," Biden tweeted after the result. "Wear a mask, keep social distance, and wash your hands."
Other close members of Trump's family have tested negative.
Officials said the process of tracking all the president's contacts in recent days was ongoing, adding that Trump was considering how he might address the nation or otherwise communicate with the American people later today.
Yesterday, the first couple said they intended to self-isolate after one of Trump's closest aides, Hope Hicks, tested positive. Soon afterwards, they too received positive test results.
But there has been criticism of Trump's decision to go to a fundraiser attended by dozens of people in New Jersey on Thursday, apparently when officials already knew about Hicks's symptoms.
Hicks, 31, travelled with Trump on Air Force One to the first presidential TV debate with Biden in Ohio on Wednesday. Some of Trump's family members who attended the debate were seen not wearing masks.
Pence negative
Vice President Mike Pence, next in line for the Oval Office, has tested negative for Covid-19, hours after Trump announced that he was infected, Pence's spokesperson said.
Trump's test result cast a spotlight on Pence, a Christian conservative former lawmaker who has been one of the few constants in the Republican president's tumultuous administration, a little more than a month before the two seek re-election to a second term.
Pence, 61, is scheduled to debate his Democratic rival, Joe Biden's running mate Senator Kamala Harris on Wednesday (US time), and it was not immediately clear how or if Trump's positive test would change that plan.
"This morning, Vice President Pence and the Second Lady tested negative for Covid-19. Vice President Pence remains in good health and wishes the Trumps well in their recovery," spokesman Devin O'Malley said on Twitter.
Trump and Pence will work from separate residences, a White House official told Reuters, and their staffs will also be separated to protect Pence should he need to assume the duties of the presidency. Pence receives the same intelligence briefings as the president.
Pence would take over as acting president should Trump become incapacitated while undergoing medical treatment. That has happened three times in US history.
Then-President George W Bush temporarily transferred power to Vice President Dick Cheney twice, for a few hours each in 2002 and 2007, while undergoing colonoscopies. Vice President George H W Bush was acting president for nearly eight hours in 1985 while President Ronald Reagan had a pre-cancerous lesion removed.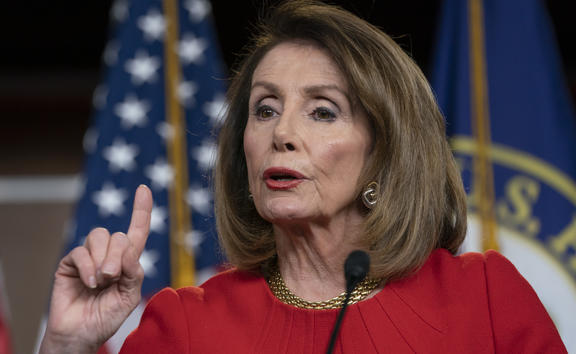 Nancy Pelosi Photo: AP
The White House said Trump is "not incapacitated" and is working in isolation while experiencing mild symptoms.
House of Representatives Speaker Nancy Pelosi is next in line of succession after Pence. She said on Friday that she had been tested for Covid-19 and should know her results soon.
In response to Trump's positive diagnosis, she said: "This is tragic. It's very sad. … Going into crowds unmasked and all the rest was sort of a brazen invitation for something like this to happen."
Pence, a former governor of Indiana, has played a largely behind-the-scenes role in Trump's White House, although he is known to have presidential ambitions of his own.
His deference has endeared him to Trump, helping Pence survive in a White House with near-constant turnover among top officials. But he has sometimes been ridiculed for his public obsequiousness to his boss.
Earlier this year Trump put Pence in charge of the U.S. response to the coronavirus pandemic, a brief that has not gone well. The nation's death toll from the virus is over 207,000. New cases of Covid-19 rose in 27 out of 50 US states in September compared with August, a Reuters analysis showed.
World leaders respond
UK Prime Minister Boris Johnson is among international leaders who have sent their best wishes to the Trumps. Johnson wrote on Twitter: "My best wishes to President Trump and the First Lady. Hope they both have a speedy recovery from coronavirus."
Other world leaders, including Indian Prime Minister Narendra Modi and his Israeli counterpart Benjamin Netanyahu, also sent messages of support to the couple.
Russian President Vladimir Putin said: "I am certain that your inherent vitality, good spirits and optimism will help you cope with this dangerous virus."
The president's niece, Mary Trump, who wrote a scathing book about her uncle, had this message: "I reserve my sympathy, empathy, and despair for those who are sick and for those who have died because they were misled, lied to, or ignored."
– BBC / Reuters