Two trophies of different eras and origins will be up for grabs in Saturday's North-South rugby match in Wellington.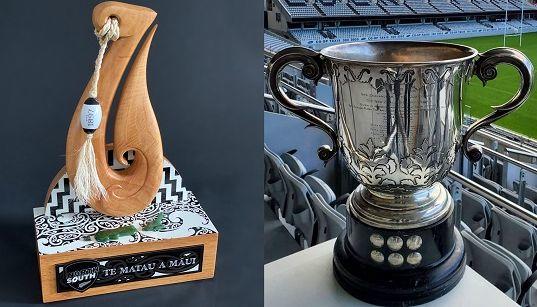 The new Te Matau a Māui, a carved rimu fish hook on a kauri base, will be presented to the winning team alongside the recently discovered Loving Cup, a trophy first presented to the 1924 All Blacks nearly a century ago.
Designed and carved by Ngāi Tahu father and son, John and Dave Burke, Te Matau a Māui celebrates the Māori creation story of New Zealand's two main islands, the North Island – Te Ika a Māui – and the South Island – Te Waka a Māui.
The trophy was created after a New Zealand Rugby search for the Loving Cup initially failed to find a piece of silverware first contested during the North v South match in 1932.
But while the new trophy was being carved the Loving Cup was rediscovered in the bowels of Eden Park after being lost for 88 years after historian Ian St George went public with his search for the old cup.
Te Matau a Māui features three pieces of pounamu depicting the North Island, South Island and Stewart Island, which is seen as the anchor of Māui's canoe.
A graphic design includes the historical black and white colours of the North and South teams, while a taura (rope) features a rugby ball shaped toggle with the date 1897, the year the North v South match was first played.
-RNZ