For months, Nickora Kaierua has been waiting for answers about how her brother, Eritara, met his demise on the lonely seas of the Pacific.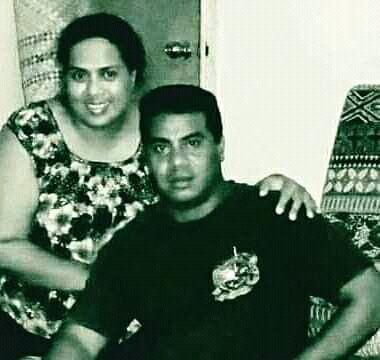 The last photograph Nickora Kaierua has of her and her brother Eritara Kaierua together. Photo: Courtesy of the Kaierua family
His last journey saw him leave Pohnpei, in Federated States of Micronesia, on board a rusting Taiwanese purse seiner, the Win Far 636, as it set out to ply the Pacific for tuna.
Eritara Aati Kaierua, who was from Kiribati, was one of hundreds of people – many from small Pacific countries like Kiribati, the Marshall Islands and Tuvalu – who sign up to become a fisheries observers. For months at a time, they live on ships, documenting what's hauled in, checking the crews are obeying the rules.
But a few weeks into the voyage, the 40-year-old father of four was dead on the floor of his cabin with a massive blunt trauma to the head, his log book open beside him. The Kiribati police are investigating his death as a homicide.
Two crew were arrested, but later released after questioning. The vessel is still detained in Tarawa as investigations continue.
Since 2010, ten fisheries observers are known to have died on the high seas of the Pacific, at least half of them in suspicious circumstances. There have been few convictions and just as few answers for families.
"Why did he die? Who murdered him and why?" asked Nickora, Eritara's sister.
"And then there's other questions, like, he was protecting our seas why was he not protected? If our fish are providing millions for our country, then why has the fisheries system failed to protect him?"
Nickora Kaierua said it had been months since her brother's death and the family, including his wife Tekarara and their four children Robert, Aati, Tuateira and Bebe, have had no closure.
On a gofundme page set up to help support Eritara's family his last message to them is shared.
"Hello my wife and children whom I love so much… how are my children? Yes, let them know to go hard at school so that they become intelligent and wise. Tell them to study really hard and to be obedient to you at all times… I love you all and wish you all the best. Eritara Aatii"
SOURCE – RADIO NZ