Wellington's men's and women's Twenty20 teams have both become the first to qualify for this year's finals.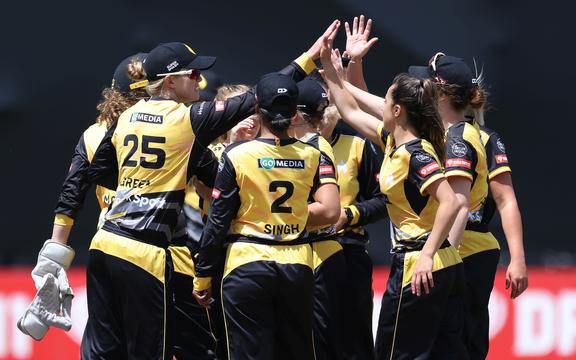 Champions for the past three seasons, Wellington Blaze did it in style – by chalking up the biggest winning margin (by runs) in the team's T20 history, beating the Otago Sparks at the Basin Reserve by 122 runs (DLS).
Set up by White Ferns Sophie Devine and Amelia Kerr with the bat, and finished off by a stunning, career best four-for from teenage spinner Xara Jetly (4-9), the victory took Blaze to 24 points on the table, with a 6-1 record, assuring them of a top three qualifier spot.
Unlike the Blaze, the Firebirds chose to bowl first at the Basin, but they likewise dominated their southern visitors from the outset, thanks to a standout performance from tall young quick Ben Sears (4-21).
The Volts fought hard in the field to try to defend their scratchy 137/9, but even three big wickets up front from Mitch McClenaghan, and a stunning Nathan Smith catch, was not enough to stop the hosts from charging home with two overs to spare.
Like the Blaze before them, the Firebirds moved to 24 points and a 6-1 record, with three games in their regular season still to come.
Both Wellington teams will host their Canterbury counterparts at the Basin Reserve on Monday.
_RNZ